D2 Western Mass Champs Boys Track
MMRHS Jazz Ensemble at Infinity Music Hall
VIrtual Enterprise Class in NYC
MMRHS Band at the Statehouse
The mission of Monument Mountain Regional High School is to create opportunities that foster intellectual and personal growth and Challenge all to become courageous learners, engaged citizens, and individuals of integrity.
News:
Sophia Cohen, daughter of Daniel and Stephanie Cohen of Lee has earned the distinction of Valedictorian for the Monument Mountain Regional High School Class of 2017.  Camille Beckwith, daughter of Bruce and Carey Beckwith of Great Barrington has earned the distinction of Salutatorian.  These students will receive scholastic medallions and certificates awarded by the Berkshire Hills Regional School District at the 50th Commencement exercises on Sunday, June 4, 2017 at 1:30 p.m. at Tanglewood.  They will deliver the Valedictorian and Salutatorian addresses during the ceremony. Valedictorian Sophia Cohen is a Commended Student by the National Merit Scholarship Program and a member of the MMRHS National Honor Society.   Sophia plays the French horn and the piano and has been a member of the Empire State Youth Orchestra in Albany, New York since 2012.  She has won numerous writing awards for her short stories and screenplay, including the Michelle Gillette Creative Writing Scholarship in 2017, First Prize in the Edith Wharton Writing Competition in February 2015, and four Silver Key Awards and eight Honorable Mentions in the Scholastic Art and Writing Awards Competition,  2013-2017.  In 2014 and 2016, Sophia won First Prize in the District VFW's Voice of Democracy Competition.  Her "Winter Survival Guide" was published in Berkshire Magazine's 2016 winter issue.  She was a captain of the cross-country team and a qualifier for the Western Massachusetts Cross Country Championships for the past three years. Sophia enjoys skiing, sailing, reading and spending time with her family, friends and two black Labradors. Sophia will be attending the Massachusetts Institute of Technology in the fall to pursue a degree in Chemistry. Salutatorian... read more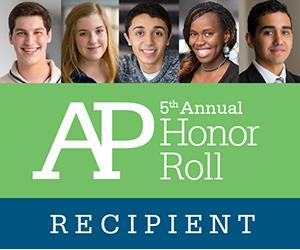 Monument Mountain Regional High School is committed to expanding access to rigorous course work including AP courses, improving student performance, and supporting student success. We've been recognized for our work as part of the College Board's 5th Annual AP® District Honor Roll. Monument Mountain Regional High School is one of 547 school districts to earn a spot on @CollegeBoard's 5th Annual AP District Honor Roll.