D2 Western Mass Champs Boys Track
MMRHS Jazz Ensemble at Infinity Music Hall
VIrtual Enterprise Class in NYC
MMRHS Band at the Statehouse
The mission of Monument Mountain Regional High School is to create opportunities that foster intellectual and personal growth and Challenge all to become courageous learners, engaged citizens, and individuals of integrity.
News:
GREAT BARRINGTON _ Dr. Jennifer Michaels will present "Opioids, Alcohol and Weed: What Parents Need to Know" on the impact of substances on the developing brain at the Mahaiwe Performing Arts Center on Wednesday, November 2, at 7 p.m. Dr. Michaels, the medical director of the Brien Center, will also discuss strategies to help foster healthy decisions as children navigate their path to adulthood. A panel of local specialists will answer questions from the audience following her presentation. The event is free and open to the public. Child care services will be provided at Fuel on Main Street. "The opioid epidemic has raised the stakes for all of us," says Erik Bruun, chairman of the South Berkshire Community Health Advisory Board that is the lead sponsor for the event. "This event is a step toward embracing knowledge for parents and the community to make more informed decisions to increase the likelihood of our children leading successful lives." The panel will include Railroad Street Youth Project Executive Director Ananda Timpane, Dr. Brenda Butler (a child and adolescent psychiatrist at Berkshire Medical Center and the Brien Center), Monument Mountain Regional High School Principal Marianne Young, Mount Everett High School Principal Glen Devoti, as well as two young people from South County. "We all dream that our children will grow up to be happy, healthy, intelligent members of society," says Michaels, "and we all know that decisions about substance use can derail those dreams." Michaels is an attending psychiatrist at Berkshire Medical Center, assistant professor at the University of Massachusetts Medical School, and a national mentor for the Physician Clinical Support System,... read more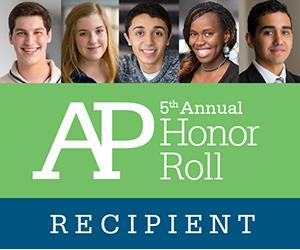 Monument Mountain Regional High School is committed to expanding access to rigorous course work including AP courses, improving student performance, and supporting student success. We've been recognized for our work as part of the College Board's 5th Annual AP® District Honor Roll. Monument Mountain Regional High School is one of 547 school districts to earn a spot on @CollegeBoard's 5th Annual AP District Honor Roll.