D2 Western Mass Champs Boys Track
VIrtual Enterprise Class in NYC
MMRHS Band at the Statehouse
The mission of Monument Mountain Regional High School is to create opportunities that foster intellectual and personal growth and Challenge all to become courageous learners, engaged citizens, and individuals of integrity.
News:
On March 4, 2016 at 8 pm, The Monument Mountain Regional High School Band and Jazz Ensemble, both under the direction of Jeffrey Stevens, return to the Mahaiwe Performing Arts Center to present their 33rd Annual Pops Concert. This will be the seventh time the Monument Bands have returned to the Mahaiwe. This year's concert will feature several guest artists and local legends including Wanda Houston, Robert Kelly, Robert Putnam, and Jay Bradley. The artists, otherwise known as The Wanda Houston Band and The Kelly, Putnam, Stevens, and Bradley Jazz Quartet will appear alone and in concert with the MMRHS Jazz Ensemble. The Jazz Ensemble will be playing the music of Frank Sinatra, Count Basie, Quincy Jones, Cole Porter, Gordon Goodwin, and Tower of Power; The Concert Band will be performing works by Aaron Copland, Alfred Reed, Leroy Anderson, and Woody Guthrie. This event is part of the band's celebration of national "Music in the Schools" month and will also include performances for young people at several area schools. Tickets are $12 and are available at the Mahaiwe Box Office. The Monument Band has performed in Virginia, Washington, D.C., Toronto, Canada, New York City, The Massachusetts State House in Boston and the Colonial Theater in Pittsfield. Previous concerts at the Mahaiwe have featured the band with pianist Peter Serkin, trumpeter Rolf Smedvig, vocalist Wanda Houston, trumpeter Allan Dean, soprano Maureen O'Flynn and singer Livingston Taylor.  All proceeds will go to help support music in the... read more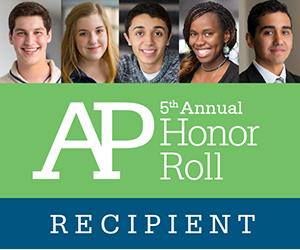 Monument Mountain Regional High School is committed to expanding access to rigorous course work including AP courses, improving student performance, and supporting student success. We've been recognized for our work as part of the College Board's 5th Annual AP® District Honor Roll. Monument Mountain Regional High School is one of 547 school districts to earn a spot on @CollegeBoard's 5th Annual AP District Honor Roll.